Theo de Blic reveals his top 10 destinations to fly during the northern hemisphere winter
Winter means different things for each of us, but to me, being so deeply addicted to flying it means a serious lack of flyable conditions and some forced holidays from my daily job, which is flying. Over the years I have managed to keep training and flying through winter and often people have asked where is the best place to fly despite the snow. So here are my top 10 places to train during the northern winter season.
1. Let's go south! For those for whom skiing is not nearly as important as flying the southern hemisphere is the solution! Warmth, consistent flying conditions and intensive training are possible. Iquique in Chile is the very best option. For acro training and wagga flying this is the must-see for acro addicts in winter. The only drawback is the price of the ticket from Europe and it is difficult to only go for the weekend.
2. For those who cannot afford a ticket to Chile, Pokhara in Nepal is a good option. You can find good conditions and some acro flying. But do not expect 800m above the water. It is a very good option if you want to travel, discover and fly some acro as well. Do not expect to train like hell every day, but rather expect to meet some incredible people and to have an incredible journey.
3. The third option is to move to Oludeniz in Turkey. This option is more applicable within fall and late fall than winter, but is still very reliable. The location is incredible, and you will get four or five flights a day with over 1,200m ASL. The place is touristic but you will find flying buddies and motivation easily. Be careful of not being overconfident – pilots tend to feel way too secure when they get 1,200m above the sea and kind of have a tendency to go crazy.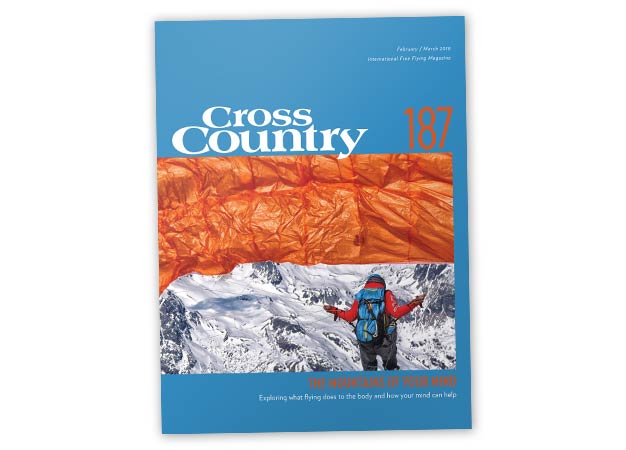 Read the rest in Cross Country 187 (Feb/March 2018)
Never miss an issue
Our subscribers receive 10 issues a year, the annual Travel Guide and exclusive access to competitions and offers
Subscribe today