When:
March 17, 2018 – March 18, 2018 all-day
2018-03-17T00:00:00+00:00
2018-03-19T00:00:00+00:00
Where:
36061 Bassano del Grappa
Province of Vicenza
Italy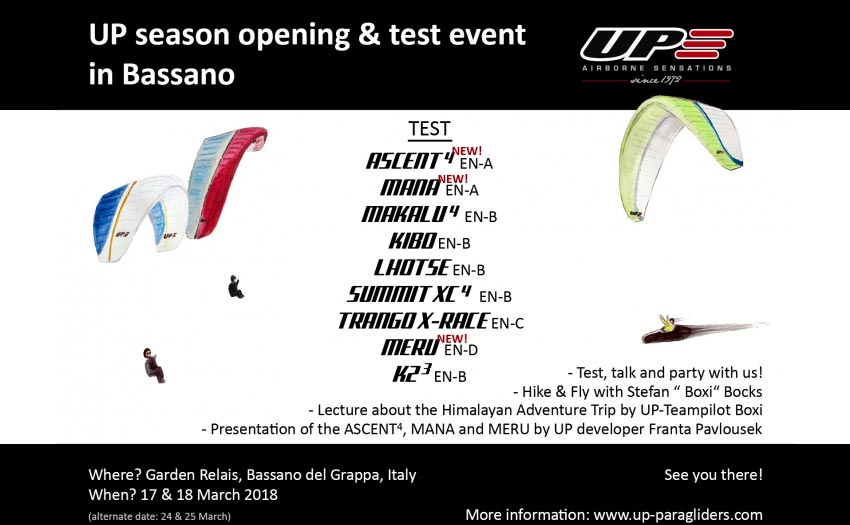 On March 17th and 18th 2018, UP will be hosting a season-opening event in Bassano Del Grappa, for pilots to meet the team and test their wing range.
"We invite all interested private pilots, team pilots and partners to interact with the UP team, test UP products and celebrate.
The exact event schedule will be announced when we have a reliable weather forecast. Events include:
Presentation of the UP MERU and UP Ascent4 by UP developer Franta Pavlousek
Lecture about the Himalayan Adventure Trip by UP-Teampilot and adventurer Boxi
Guided Hike & Fly by Boxi
Musical background at the landing field by UP-DJ Kilian
Of course we will have all UP glider models available in sufficient numbers for extensive on-site testing.
The entire UP Team is looking forward to a social weekend and lots of fun flying together.
Where?
Via Caose, 20
31030 Borso del Grappa TV
Italy
Replacement date incase of bad weather: 24th & 25th March 2018″
Never miss an issue
Our subscribers receive 10 issues a year, the annual Travel Guide and exclusive access to competitions and offers
Subscribe today