When:
October 1, 2019 – October 5, 2019 all-day
2019-10-01T00:00:00+01:00
2019-10-06T00:00:00+01:00
Where:
74170 Saint-Gervais-les-Bains
France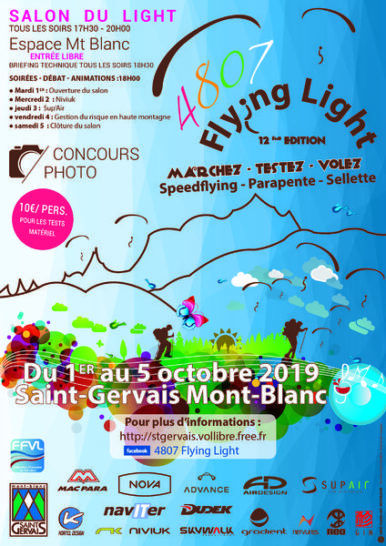 Test out new lightweight equipment, speak to manufacturers and join in the group hike-and-fly sorties, under the watchful gaze of Mont Blanc. Or atop it, if you are really, really lucky!
The 4807 Flying Light salon at Saint-Gervais-les-Bains is now in its twelfth year and supported by 14 major paragliding equipment manufacturers. It's grown in duration to a five-day event, and is one not to be missed if you love hike-and-fly in high mountains.
It's free to enter the trade area, €10 to test out material.
Never miss an issue
Our subscribers receive 10 issues a year, the annual Travel Guide and exclusive access to competitions and offers
Subscribe today