The Eternity from U-Turn is an EN-A paraglider with a flat aspect ratio of 5.0, suitable for beginners up. 
It's light in weight, starting at 3.45kg in the smallest size (increasing to 4.85kg in the biggest of the six sizes). U-Turn say the Eternity is a very forgiving wing, but with precise, sporty handling and an outstanding glide, that mean more experienced pilots will enjoy too.
It's very easy to launch, even in nil-wind conditions. U-Turn's High Pressure Crossport Design means the internal pressure builds very quickly on launch, and ensures a nice balanced internal pressure during flight.
The Eternity is made from double-coated lightweight Dokdo 20 and 30, and Skytex 27 cloths. U-Turn say the longevity for such cloths appears to be very good – glider service reports have shown that they last as well as standard cloths.
Their risers have a 'Pilot Assistant' – colour coding and icons to clarify which lines are which. The six sizes cover all-up weights from 60-150kg, and the XL size (120-150kg) is tandem-certified too.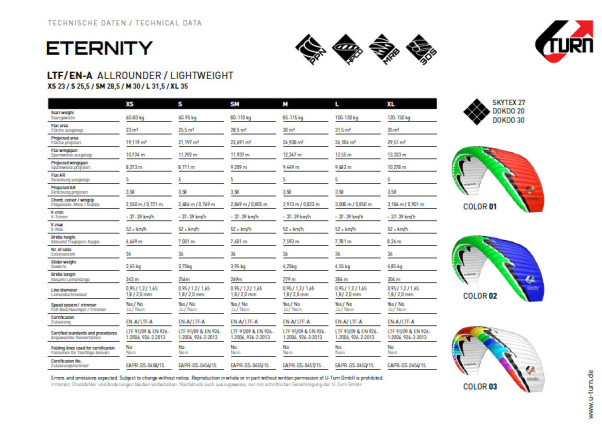 ---
• Got news?
Send it to us at news@xccontent.local.
Subscribe to the world's favourite hang gliding and paragliding magazine home
Never miss an issue
Our subscribers receive 10 issues a year, the annual Travel Guide and exclusive access to competitions and offers
Subscribe today