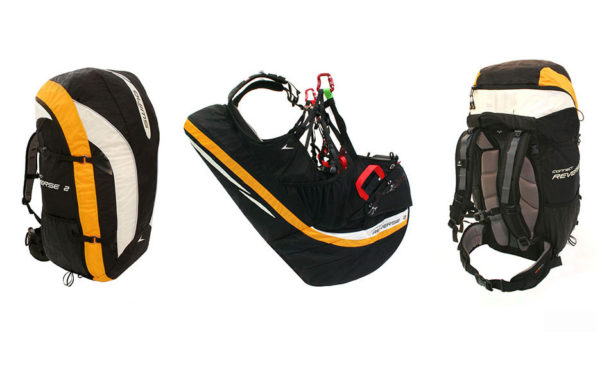 Swing have updated their reversible paraglider harness, and the latest edition is the Connect Reverse 2. 
It sports an improved airbag which inflates by means of a steel spring, completely independent of airflow, guaranteeing maximum protection right from launch and excellent longevity.
The harness now has a more streamlined, aerodynamic shape, and Swing say it has a good in-flight balance of comfort and agility. Its specially shaped seat board and optimised leg strap geometry also make it easier to get into.
The rucksack still has Deuter®'s excellent carry system, with crossed aluminium strips which effectively transfer weight to the hip-belt wings so the perceived weight is noticeably reduced.
Built from robust, high-quality materials, the Connect Reverse 2 is a durable and comfortable harness, ideal for extended hike-and-fly tours, travelling or simply for flying.
Harness features
Airflow-independent airbag without air inlet (shape by way of steel spring)
Specially shaped seat board for easy transition into flying position from launch and vice versa
Right/left markings on the loops for the main carabiners – which in particular makes reverse clip-in easier
T-lock leg loops
magnetic holder for speed bar
integrated, size-adjustable reserve container under the seat
comfortable ergonomic back padding with mesh insert for improved ventilation
adjustable buckles on the straps for the sitting position, which stay in position
adjustable back rest angle
adjustable seat angle
markings for recommended standard pilot position
storage compartment for hydration bladder + drinking tube outlet
shoulder pocket with SOS emergency card
strap to attach a radio
two side pockets for flight accessories
alarm whistle on the chest strap
ball-bearing pulleys for speed system cord guide
set up for installation of a speed system
customisable: Quick-Out carabiners and steerable reserve can be installed
Backpack features
Alpine Back carrying system with detachable hip belt (see picture)
Ample volume, even for large paragliders and helmet
U-shaped zipper for easier packing
Attachment loops for optional helmet holder
Loops on backpack base e.g. to attach a sleeping bag
Side loops for trekking poles
Two side pockets
Top pocket with zip closure
Stable compression straps with metal buckles
Reflective strips for better visibility
Alarm whistle on the chest strap
Storage compartment for hydration bladder + drinking tube outlet
Optional accessories
Deuter® rain protection cover
Deuter® cover for protection when travelling
Deuter® hydration system (3 litre)
Materials and specifications
Lightweight and robust combination of materials (Cordura® and Babyrib)
Weight 4.5 kg (size L)
Stable plastic seat board
Safety and certification
Airflow-independent airbag (integrated steel spring)
Excellent damping values right from launch
Velcro-free rescue channel system
V-lines with integrated backup of the reserve/harness connection
---
• Got news?
Send it to us at news@xccontent.local.
Subscribe to the world's favourite hang gliding and paragliding magazine home
Never miss an issue
Our subscribers receive 10 issues a year, the annual Travel Guide and exclusive access to competitions and offers
Subscribe today