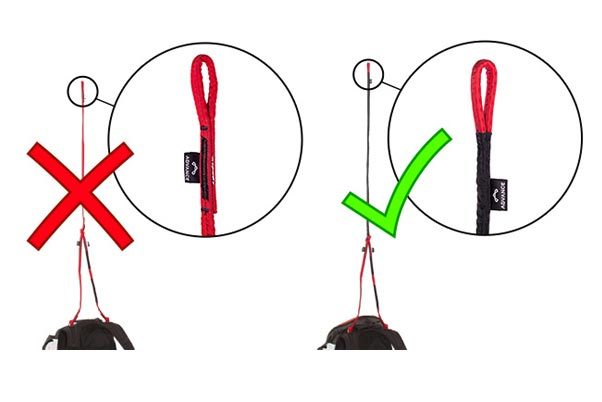 The connection between the V-lines and the reserve on Advance Easiness and Easiness 2 harnesses should be replaced at the next opportunity. 
A replacement connection line can be obtained from Advance free of charge.
In a safety bulletin released on 8 June 2017, Advance stated:
A routine spot check of Advance incoming goods has revealed that the connection between the V-lines and reserve on the Easiness and Easiness 2 reversible harnesses does not conform to the French manufacturer Techni Sangle's guaranteed quality, in other words it is not strong enough. Because it cannot be assured beyond doubt that all the already-built connection lines conform to the required strength based on the inspection sample, Advance have instigated a precautionary recall for all reserve V-connection lower lines for the Easiness and Easiness 2 harnesses. Other harnesses conform to their specifications and are not affected.

Because of the measured values discovered on the spot check it is possible that a reserve thrown with such a connection at maximum load (120 daN) and at a speed approaching that of freefall might experience a strength problem. Even though such a set of circumstances is extremely unlikely to occur in practical use, we advise all owners of Easiness and Easiness 2 reversible harnesses to order the free replacement kit and refit this connection line as soon as possible.

Ordering the replacement kit and a guide to how to fit it is here.

For all of their almost 30 years Advance have put the highest priority on good workmanship and excellent products. This is why we get the greater part of our prepared raw materials and fittings from high quality European manufacturers. Nevertheless, even with the greatest diligence and foresight technical problems with materials can, unfortunately, not be completely ruled out.

We apologize to all Easiness customers for any concerns or inconvenience raised by this safety notice. If you have any questions or are uncertain what to do please contact your Advance dealer.
---
• Got news?
Send it to us at news@xccontent.local.
Subscribe to the world's favourite hang gliding and paragliding magazine home
Never miss an issue
Our subscribers receive 10 issues a year, the annual Travel Guide and exclusive access to competitions and offers
Subscribe today