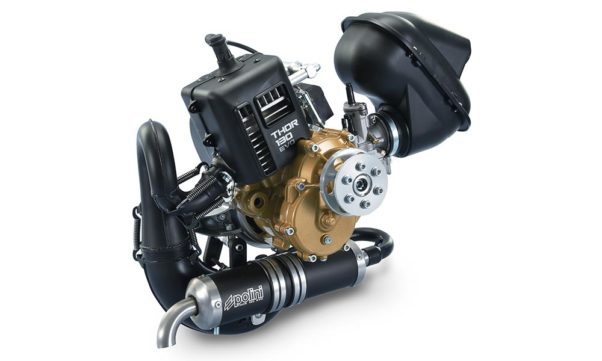 An evolution of the original Thor 130, Polini say the Thor 130 Evo is a more compact and better-performing paramotor engine.
They say its hand-made, low-noise exhaust system is more compact, and the new crank case is smaller and more uniform. It can be fitted with either  a Ø 24 bowl carburetor or Walbro WG8.
Polini say the Thor 130 Evo offers excellent power for a low fuel consumption, and their Flash starter makes it easy to start, every time.
Smooth running is aided by a nickel-chrome coating on the cylinder unit liner, and a high silicon content in the pistons.
Polini list the following features:
Specific Power Unit
The cylinder unit is cast in light alloy and the liner has a  nickel-chrome coating for the best piston sliding. The piston is gravity die-cast in light alloy at high silicon content with 2 chromed and nitride steel rings.
Exhaust system
The exhaust system is completely hand made for a better product quality.
Compact design and contained dimensions. Reduced overall dimensions for a better aerodynamic. Low noise level.
Cooling
The forced air cooling system grants a better air cooling, optimizing the performance and maintaining even temperature.
Advanced Solutions
System with closed circuit for fuel collection during transportation.
Prearrangement for 12V exit for future electric devices.
Very low propeller overturning torque granted by the counterturning masses.
RRP from €2,130 + VAT
---
• Got news?
Send it to us at news@xccontent.local.
Subscribe to the world's favourite hang gliding and paragliding magazine home
Never miss an issue
Our subscribers receive 10 issues a year, the annual Travel Guide and exclusive access to competitions and offers
Subscribe today