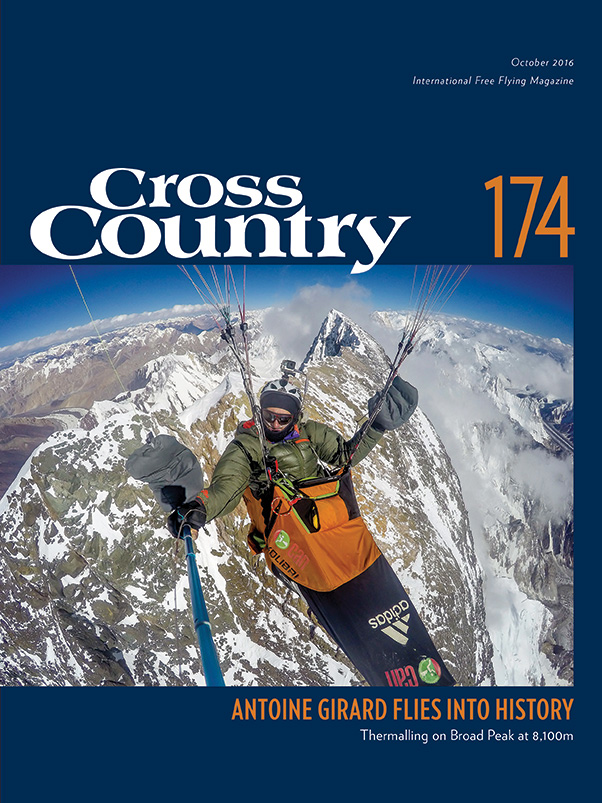 "I could see all the places I had been. It was just a pleasure. I didn't think: Oh, it's a record, it's 8,000m. It was just the mountain. It was fantastic. Only that. Exploring."
When Antoine Girard flew a paraglider to the Himalayan summit of Broad Peak, he achieved the unthinkable and tore up the record books in the process. But all of us feel that same magic when we soar higher, further, than we have ever flown before. The thrill comes from exploring the wonders of the world … from above.
Cross Country is all about celebrating that feeling, and helping you to achieve it, whoever you are. Read on to discover what's in the latest issue – and consider supporting the only international free-flying magazine.
---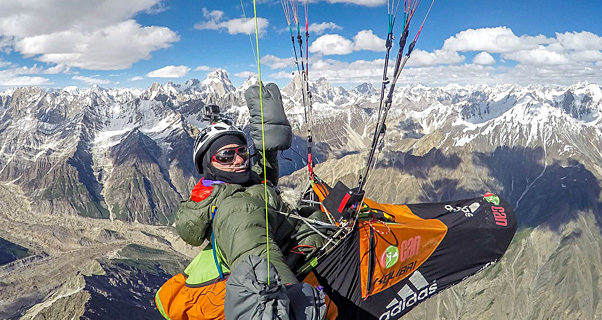 "It's like an exclamation mark on what we've been doing out there," said John Silvester of Antoine Girard's momentous, record-breaking flight to the 8,051m summit of Broad Peak. With frostbitten fingers and no oxygen, Girard had just two things on his mind as he scratched his way up the Himalayan monster: "Did I feel good? And go up. That was it."
---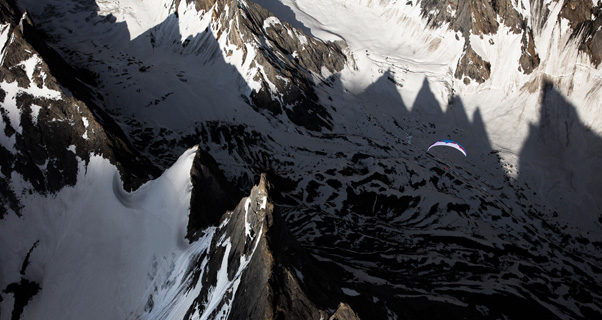 Pilot and expedition medic Dr Matt Wilkes gives his crucial advice for flying "into the wild", from staying healthy and choosing the right kit to the importance – and pitfalls – of leadership. "Whether on the ground or in the air, we make conscious judgments as to who is in authority… Once we have granted someone authority, we tend to assume they know more than they actually do. This can catch everyone out."
---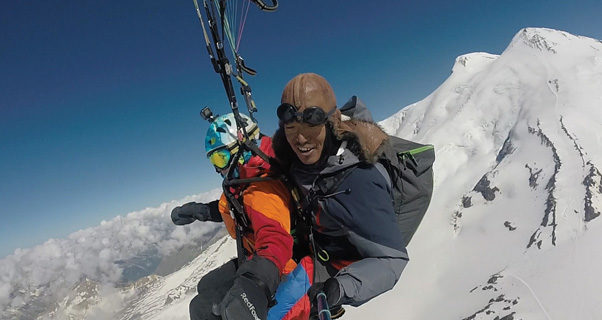 Babu Sanuwar conquered the roof of Europe when he flew a tandem off the summit of Mount Elbrus in July, with passenger Natalia Safonova. "There is no weather forecast, just local people. We were waiting, waiting, waiting."
---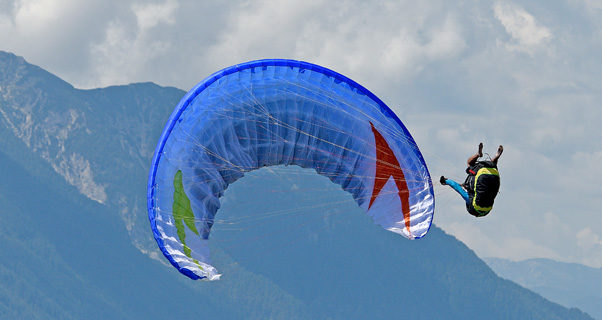 Bruce Goldsmith unravels the subtleties of brake dynamics. "Understanding how to use these tricks to allow greater control movements while also avoiding stalling the wing is one of the keys to becoming a great pilot."
---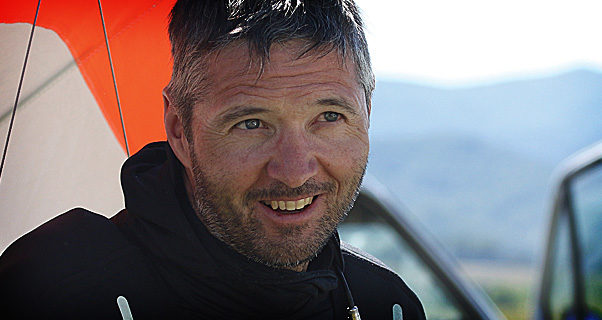 Christian Ciech on winning the European Hang Gliding Championships in Krushevo, Macedonia. "Managing your mindset is key in competition. The best situation for me is when I'm not thinking about the results, and I'm thinking about learning from the flight."
---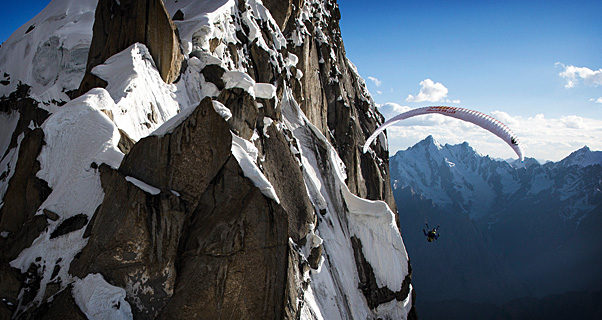 "We saw big avalanches from the air, flew over glaciers. They were magic days." Only a handful of pilots have flown above 7,000m. Fresh back from an epic expedition to Pakistan, Tom de Dorlodot tells us about flying in the heavens. Just don't forget your oxygen.
---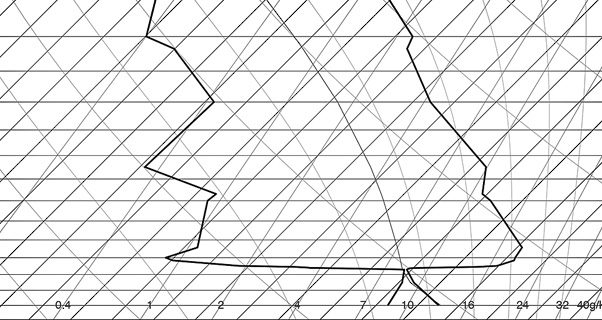 "What if someone told you that you could free-fly 200km without ever getting higher than 1,200m ASL" You just need to head to coastal Chile – and understand the conditions, says our resident meterologist Honza Rejmanek.
---
"You will be rewarded with better climbs and once you are above the peaks you'll move faster and open up a different world. Things you've flown around before, you'll now fly over." Jon Chambers unlocks the secrets of flying VERY high.
---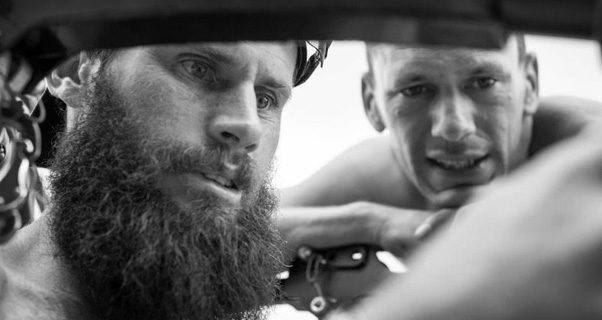 "Two guys left the trench before me and nothing happened, but then I climbed out … and bang!" British Army veteran Cayle Royce speaks to Matt Warren about the day he lost his legs in Afghanistan … and how he recovered to pilot a paramotor trike from John O' Groats to Land's End.
---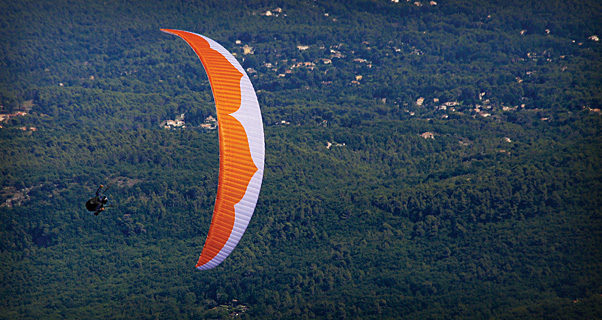 It's the wing (almost) everyone is talking about. Ozone announced the Zeno at the end of July and it is now available to order in the ML size. It's designed from the ground up to to fill the gap between the Mantra 6 (EN D) and the Enzo 2 (CCC) – and she's a beauty. Just handle with care.
---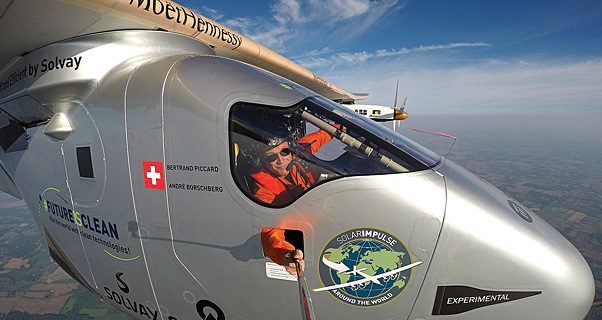 Well, you'd take a selfie, too, if you were flying a solar-powered plane around the world. We look at some of the defining moments from Solar Impulse II's record-breaking circumnavigation of the globe.
---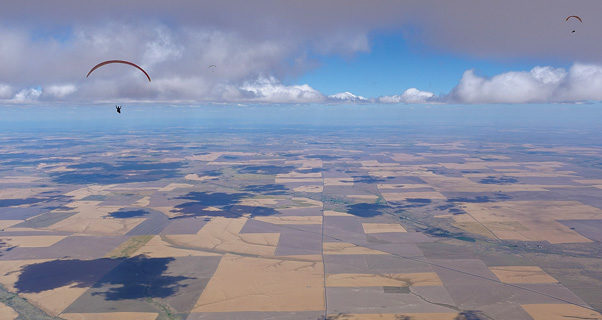 "The wind had blown like a bastard all night and there had been a lot of serious drinking going on." James 'Kiwi' Johnston gives his no-holds-barred, insider's account of this year's US Paragliding Nationals at Lake Chelan, Washington – and reveals what it was like to face the longest paragliding task in history. Yep, that's just 224.1km.
---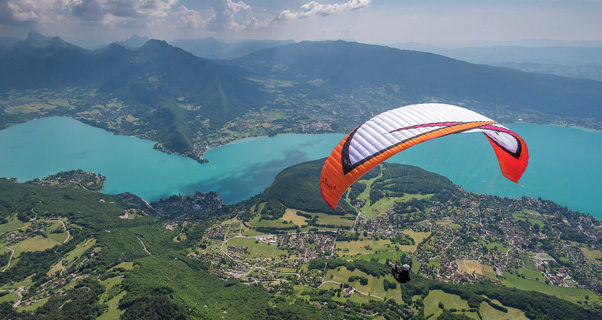 Pat Dower takes to the air with ITV's Jedi 2 – and the verdict is in. "It's easy to see why so many ITVs fill the Annecy skies close to the company's base in Doussard… It's a likeable, capable, low maintenance, smooth rounded intermediate glider that's very accessible and reassuring to fly."
---
"I can see this wing will be particularly appealing for those weekend warriors that used to fly hotships but now want that bit more passive safety for their long cross-country days out." Marcus King test-flies the Nova Phantom, a wing that offers EN B security – with EN D performance. Really.
Be inspired and improve your flying by subscribing from just £2.25 per issue.
Never miss an issue
Our subscribers receive 10 issues a year, the annual Travel Guide and exclusive access to competitions and offers
Subscribe today