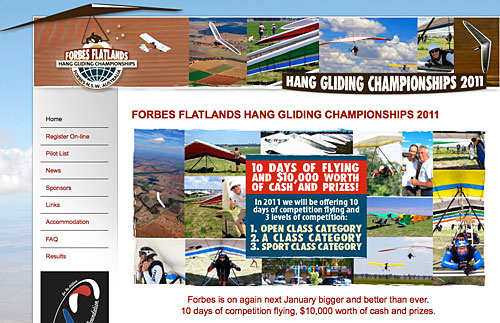 Organisers Moyes have made some late changes to the format of the Forbes Flatlands hang gliding championships, which take place in January 2011. Details are below, and entries should be received by this Friday, 10 December 2010.
The sports class event is unchanged, scheduled for 28 – 31 December, but the main Hang Gliding Championships now become two separate FAI cat 2 / HGFA AAA sanctioned competitions, with a rest day in between.
The pratise day has been moved forward by a day to 1 January, and the first Open Class competition runs from 2 – 6 January; the second from 8 – 12 January.
Organisers say this format better caters for pilots who "time-wise, money-wise or fitness-wise can only do one or the other comp". It also gives pilots who want to do both a rest day in between, and doubles the potential WPRS points.
In summary, the dates and costs of the events are below:
Forbes Flatlands Sports Class Championships 2011, 28 – 31 December 2010
Unlimited entries – Entry Fee $250 + $25 per tow
Cross Country flying and competition preparation, 28 – 31 December 2010
Max 10 entries – Entry Fee $200 + $25 per tow
Record Flying, 28 – 31 December 2010
Max 5 entries – Entry Fee $200 + $25 per tow
Aerotow Endorsement Course, 28 December 2010 – 1 January 2011
$250 + 10 tows $250
Practice Flying, $25 per tow
Forbes Flatlands Hang Gliding Championships 2011 consisting of Open, A-class and Sports class
Practice day: 1 January 2011
1st Comp: 2 – 6 January 2011
Rest day 7th January 2011
2nd Comp: 8 – 12 January 2011
Entry Fees:
Both events –  $650 overall (entry fee and tow fee together).
One competition – $450 overall (entry fee and tow fee together)
Never miss an issue
Our subscribers receive 10 issues a year, the annual Travel Guide and exclusive access to competitions and offers
Subscribe today