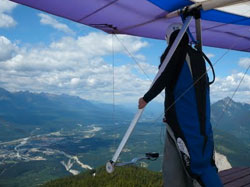 The Canadian hang glider nationals will be held in Golden, BC, from 10 – 16 July 2011, with the paraglider competition following it on 18 – 22 July.
Organisers say Golden is an ideal base, with consistent weather, great local amenities and an "awesome reputation for XC flying and racing".
Information about Golden as a flying site on this website, created by local pilot Serge Lamarche. The competition itself will be based at the Golden Eco Adventure Ranch.
Pilots can register now using the application forms on their website, here for hang gliders, and here for paragliders. There are places for 60 hang gliders and 125 paraglider pilots.
The entry fees are:
Hang gliders: $145 before 25 June, or $175 after.
Paragliders: $160 before 15 June, $200 after.
Some of the entry fee goes to the Golden Search & Rescue foundation.
All pilots must be HPAC (Hang gliding & Paragliding Association of Canada) members, but you can get temporary membership at the event, if you are not already a member.
There are cash prizes for the top three pilots in the Topless and Kingpost categories, and for the first Rigid, and for the top three open and female paraglider pilots.
More info on the events' websites: hang gliders, and paragliders.
[vimeo id="13842255″ w="500″]
---
• Got news? Send it to us at news@xccontent.local.
Subscribe to the world's favourite hang gliding and paragliding magazine
home
Never miss an issue
Our subscribers receive 10 issues a year, the annual Travel Guide and exclusive access to competitions and offers
Subscribe today