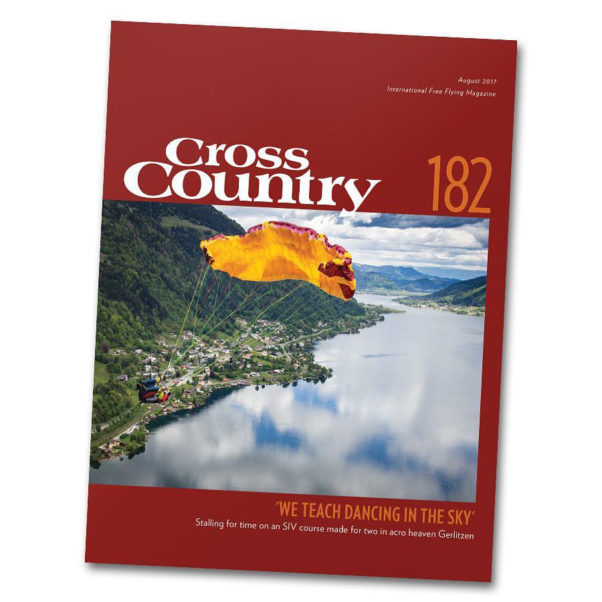 Cross Country 182 (Aug 2017) is out now and features Xandi Meschuh and Benni Hörburger on the front cover, in full stall, dual-control SIV training in Gerlitzen, Austria. Photo by Marcus King
Here's a taste of what's inside.
---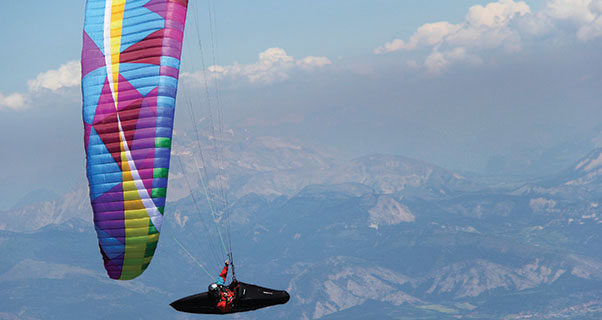 Bruce Goldsmith was Paragliding World Champion a decade ago. With his son Tyr facing his first World Championships in Italy, Bruce writes down some good advice. 'Fly the gear you know … Use a backup instrument … When you apply bar, do it in two pushes.' You know what they say – Dad knows best.
---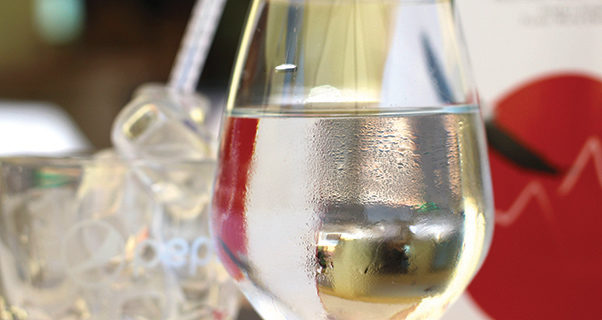 You can predict cloudbase with a glass of ice and a thermometer. Resident meteorologist Honza Rejmanek explains how.
---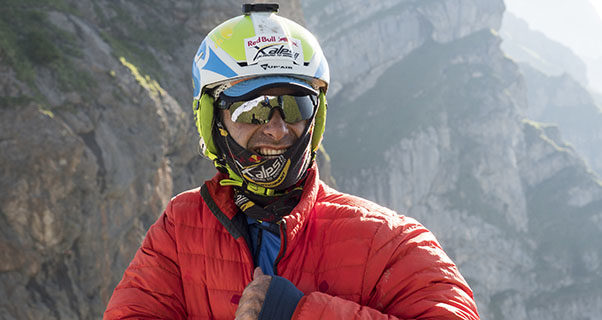 Gavin McClurg has had a big two weeks at the Red Bull X-Alps. Before he headed off to Europe he took time out to explain exactly how to prepare before a big day. Thinking of that third beer? Think again!
---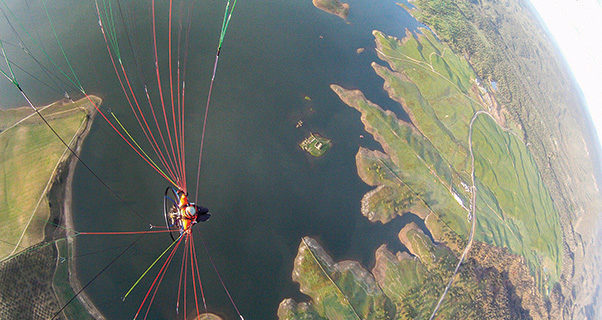 Paramotor pilot Jeff Goin has some advice about spiral dives and going too strong. 'In the wrong hands over-the-nose spiral dives can be surprisingly lethal. Unfortunately they're really easy to do, even for raw beginners.'
---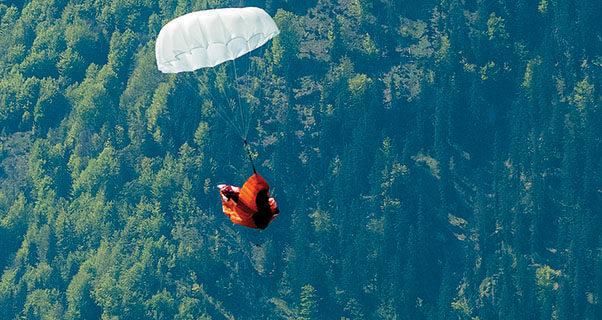 'Throw your reserve and it's suddenly the most important bit of kit you own.' Buying a rescue parachute can be a tricky business. Understanding the basics is key to making the right choice. Matt Warren talks to some experts to find out what you need to know
---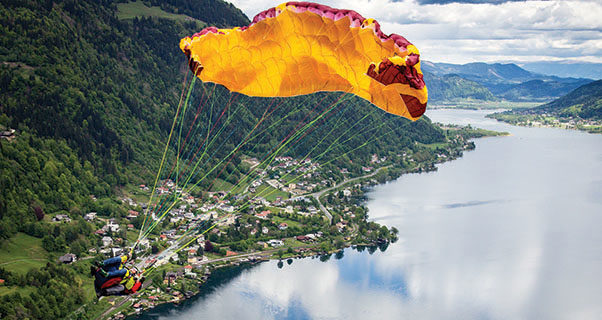 'Slow the glider, slow, slow, slower…' We head to Gerlitzen for a unique dual-control SIV session with Xandi Meschuh and Benni Hörburger
---
The new EN C wing from Supair is their first Sports class glider. Marcus King flies the five prototypes and the production model to get an in-depth understanding of just where the glider has come from – and where it's going
---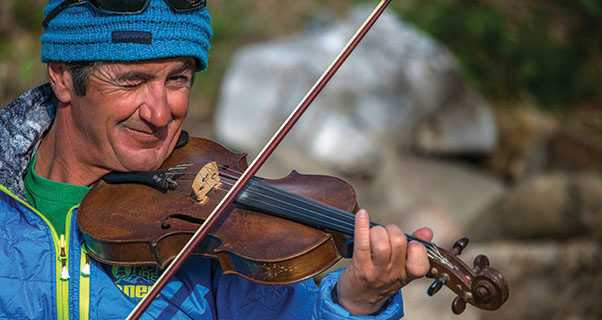 Jean-Yves Fredriksen is the fiddler on the roof of the world, exploring the Himalaya alone but always with his violin. He talks to Andy Pag about his most recent expedition – a 3,500km, four-month trip through the greatest mountains on Earth
---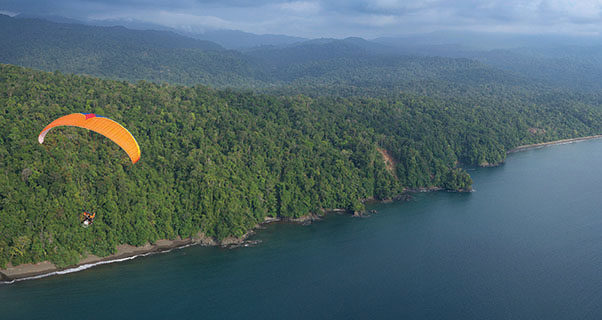 'There are no coastal roads or towns for 400km. Armed drug smugglers have a significant presence.' Jeff Goin continues his Pacific coastline paramotoring odyssey with an 800km journey through the Choco, in Colombia's remote northwest
---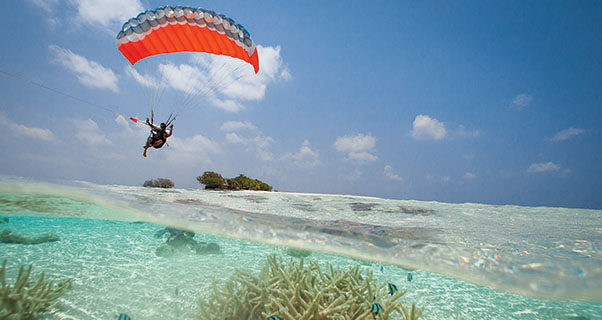 'Art and outdoor sports – my two favourite things at school.' Jody MacDonald has been photographing paragliding for a decade. We showcase her favourite shots
---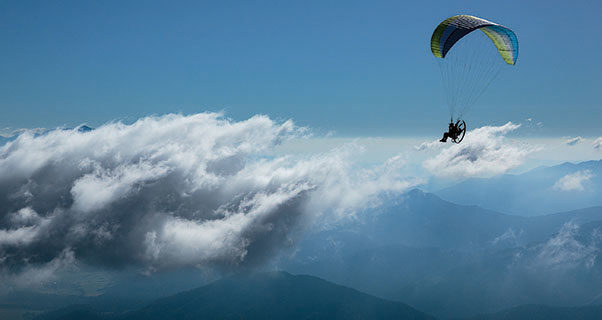 'Around the campfire Miroslav took us on a tour of the local fruits: pear, plum and apricot brandy.' Franck Simonnet makes new friends on an overnight paramotor bivvy in Slovakia.
---
How do pilots actually flare a wingsuit? 'You don't have to do much. I tell other pilots to use your brain more than your body.' Matt Gerdes explains how pro wingsuit pilots are now perfecting the art of going up – at 11m/s.
---
Find out more, subscribe, and never miss an issue
Never miss an issue
Our subscribers receive 10 issues a year, the annual Travel Guide and exclusive access to competitions and offers
Subscribe today