When:
July 24, 2017 – July 30, 2017 all-day
2017-07-24T00:00:00+02:00
2017-07-31T00:00:00+02:00
Where:
Organyà
25794, Lleida
Spain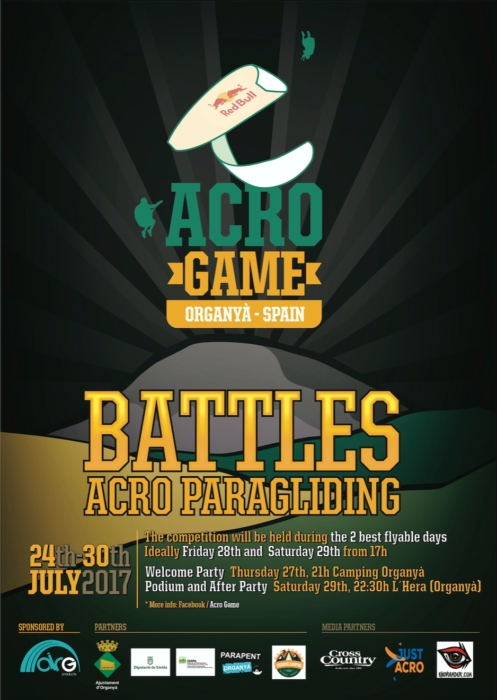 Fifteen of the world's top paraglider acro pilots will taking part in the all-new Acro Game, which will be held in Organya, Spain between 24 and 30 July 2017,
The two best weather days will be used for the actual competition which is a knock-out tournament, and works like this:
Fifteen pilots start out, and acro tricks are selected by lottery for them to perform. If a pilot fails a trick, he or she is given a letter, 'A', 'C', 'R' or 'O'. Get the whole word and you are out, so only three mistakes are allowed for a pilot to stay in until the next round.
When only eight pilots remain, the head-to-head battles commence. Pairs of pilots have to complete the same trick, and the one judged to have performed it the least well gets a letter.
Competing are:
Bicho Carrera(CL), Brooke Whatnall(AU), Egor Posokhin(RU), François Ragolski(FR), Gaetan Doligez(FR), Horacio Llorens(ES), Jeremy Peclard (CH), Kevin Philipp(CH), Ondrej Prochazka(CZ), Rafael Goberna(BR), Raúl Rodriguez(ES), Théo de Blic(FR), Thomas Schlögl(AT), Tim Alongi(FR), Yeray González(ES).
Never miss an issue
Our subscribers receive 10 issues a year, the annual Travel Guide and exclusive access to competitions and offers
Subscribe today